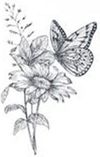 Growing up, my family didn't have a lot of money. My parents had me when they were practically babies themselves at just 20 years old. They worked their butts off so my brother, sister and I could have whatever we wanted or needed. They made sacrifices that I can't even begin to understand making. But I'm thankful they did.
"My dad greatly influenced me musically. He woke us every Sunday morning by blasting the stereo with Neil Young or Joni Mitchell. He played guitar and wrote beautiful poems."
He never attempted writing a song and was private about the poems he shared with the family. When I was in fourth grade, I begged my parents for a piano. I knew they didn't have much money. But I believed in my heart that I needed it. So, they figured out how to make it happen and bought me a used upright. That's when my relationship with music changed. When it became practically all-consuming. That's when it all began.
I met my husband, Tom, during my senior year of college. We attended neighboring schools: He went to Cornell, and I went to Ithaca College. All the Cornell guys hung out at Ithaca College bars, because the girls were prettier (at least that's what Tom swears to). One summer night before my senior year, one of my best friends happened to be talking to the guitar player of a band called The Bad Mix and learned they needed a singer. I soon found myself at the audition in the basement of a fraternity—I can still remember the smell of stale beer stinging my nose—and locking eyes with their drummer, Tom. To this day, he won't reveal if the band's vote for me was unanimous, but he was my greatest supporter then and has been my foremost champion in my art and our life together.
After college I held various jobs to pay the bills and make headway with my music. From waiting on tables and internships in the music industry to a career with record companies and recording studios. I eventually found myself in office jobs doing administrative work—and I hated every minute of it. All the while, I burned the candle at both ends because I refused to let go of my music. It's in me—always has been—haunting me, pulling on and pushing at me, fighting with me and loving me.
For most of my music career, I felt this tremendous pressure to succeed as an artist and musician, to make money, to prove to myself and others that I was successful. I gauged my success by the level of fame I attained and money I earned. But using fame and money as a barometer of achievement can sometimes be a career challenge. It can be both a blessing in motivation and a curse to creativity. I sang for many funerals and weddings in churches—it's an honor to be included in such sacred events—but also belted out cheesy wedding songs at receptions, because I thought that no matter how I made money with my voice, I would be successful. I have nothing against any of that, but in the end, I learned it just wasn't for me. I found it silenced my muse.
Like most independent singer-songwriters, I have struggled to "make it." I've co-written with people, written and recorded some songs for which I'm damned proud, and traveled the world as a backing musician for several bands. I once toured Germany and Spain, which was quite an experience. I performed in an all-female a cappella group with five other women. I sold myself out at college festival booths trying to perform at colleges. I played dozens of music festivals where 200 bands performed at different venues, and the music industry people you invited may or may not show up because you have a competing slot with another band they want to see. I've played everywhere from dumpy grungy bars to large proper theaters. I did get to open for Ray Charles at the Auditorium in Ocean Grove, New Jersey—what a thrill! When I think back on all that, I occasionally wonder why I did any of it. But when I stop and think about it, I realize it was just part of the journey of becoming the person and composer I am today. I have so many stories to tell, but you'll have to wait for the book, which I plan to title "Listen to This Sh*t."
Eventually, I was ready to give up. The competition can be so fierce and the drive to achieve and produce so overwhelming, it exhausted me. I needed a break from all of it. Having a music career is not for the faint of heart. There were a lot of exciting and fun times, yet also a lot of drama and tears. But not too long ago, I had an epiphany. Maybe it comes with age and experience and much soul searching.
"The realization dawned on me that the most important part of my experience with music is the creative part, writing the songs, being in the studio and layering tracks, much like building a beautiful home."
Anything after that—money fame, notoriety—is just icing on the cake. It cannot solely be about selling records and making money. I've finally relinquished the pressures I once put on myself and—I must admit—it's a lot more fun this way. I feel like more of an artist now than I ever did when I was trying so hard.
During times of unrest, we need to come together. Sometimes it feels hopeless, right? There may be periods when music and art take a back seat to lives overwhelmed by pure survival or moments when the arts are drowned out by the din of unrest, but in the end, during those brief whispers of peace, the arts yearn to make their voices heard. The one important thing we can always do is shine our light so some of the darkness slips away. Just keep going. We can do this.
With peace, joy, love and light,